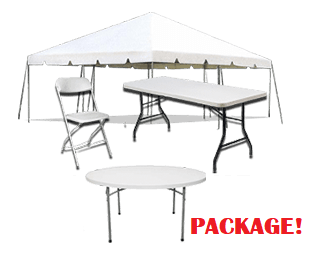 20' x 30' Tent Package (8 Tables, 48 Chairs)
Super Saver

Tent Package!
20' x 30' Tent

(8) 6' Rectangle Tables

(48) White Folding Chairs
We can customize this package to meet your needs. Our 20' x 30' tent can fit up to 64 chairs with (8) 6' Tables.
We can also subsitute our rectangle tables for our 60" Round Tables. This option can seat a maximum of 60 guests.
If you wish to customize your package further, please place your order online and leave a comment under "customer comments" or place your order and call us at 772-281-9850
As your all-in-one party rental company we can also provide:
36" Cocktail Tables (High top or Low top)

60" Round Tables

White Resin Chairs

Wedding Rentals

Inflatable Rentals

Interactive Games

Photo Booth & More!

Concession Machines

Photo Booth & More!